Shoulder resurfacing & replacement in Burr Ridge
Also serving Plainfield, Morris and surrounding areas
Procedure
• Outpatient
• The ball and socket are replaced with smooth metal and plastic surfaces
Duration
1.5 hours–2 hours
Anesthesia
General
Recovery
3–4 months
Overview of the Shoulder
The shoulder joint is a ball and socket joint that can wear out in the same fashion as hips and knees. Smooth cartilage surfaces are eventually worn down to bone. The most common diagnosis is Osteoarthritis which causes wear and tear to the joint and loss of smooth motion.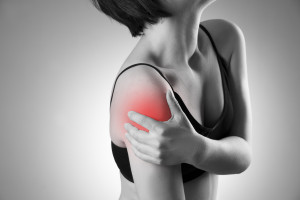 The joint becomes painful and stiff, and activities of daily life are compromised. Shoulder Resurfacing and Replacement are surgical options to restore the normal gliding surfaces of the ball and socket joint.
Shoulder Replacement Procedure Details
Shoulder Resurfacing involves a minimally invasive approach to place a new metallic surface onto the ball of the joint, leaving the natural socket in place if it is not worn out.
Shoulder Replacement involves placement of a metallic surface over the ball of the joint and a smooth plastic surface over the socket of the joint in cases where the socket is also worn.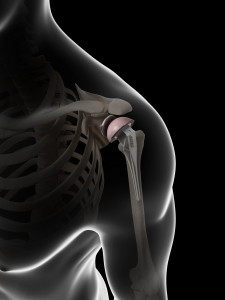 Surgical treatment is undertaken after thorough history and examination and discussion of all potential options for treatment. This procedure can last from 1.5 to 2.5 hours and usually requires one night in the hospital. Physical therapy after surgery is generally guided by the orthopaedic surgeon with a series of exercises. Return to normal daily activity takes from six to eight weeks.
Arthroscopic Treatment may be an option for certain patients with Arthritis of the shoulder, depending on the severity of the disease. In these cases the treatment is outpatient and may involve removal of bone spurs or shaving of torn cartilage in the joint.
Shoulder Resurfacing & Replacement FAQs
Why Do Patients Have Shoulder Replacement Surgery?
Some of the most common reasons patients require shoulder replacement include:
Osteoarthritis: This age-related disease gradually wears down the cartilage around joints, allowing bones to rub against each other. The resulting friction can produce inflammation and significant pain.
Rheumatoid arthritis: This is an autoimmune disease in which the immune system inflames the lining of the joints. The swelling becomes painful and can erode the bone.
Osteonecrosis: When the flow of blood is obstructed from reaching a portion of bone, the bone tissue can break down and die, causing large joints like the shoulder or hip to collapse.
Traumatic injury: Patients who suffer a serious injury (such as a sports injury or car accident) may develop arthritis that affects the joint.
Shoulder replacement revision: If a prior shoulder replacement surgery is misaligned, has healed improperly, or develops complications, it may be necessary to repeat the procedure for better results.
What Are the Benefits of Shoulder Resurfacing?
Shoulder resurfacing has several advantages over traditional shoulder replacement surgery, such as:
Repairing the shoulder with a less invasive procedure
Promoting a quicker recovery with less discomfort
Offering fewer complication risks, with no chance for fat embolus or prosthesis fractures
Unfortunately, not all candidates who need to repair their shoulder joint are suitable for shoulder resurfacing. It is generally limited to patients with mild or moderate cases of arthritis. After assessing apatient's shoulder, Dr. Burt can provide his professional opinion for the best approach to improve shoulder mobility and diminish pain.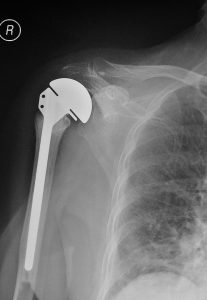 What Is Arthroscopy?
Arthroscopy is a procedure that allows Dr. Burt to diagnose and treat shoulder (or other joint) problems when an X-ray does not provide a complete picture. Instead of making a large incision to assess the shoulder, he makes a tiny incision through which he inserts a small camera that transmits a high-quality video to an external monitor.
Dr. Burt can also use arthroscopy (rather than a more invasive surgery) to address issues like:
Torn cartilage or ligaments
Inflammation or scarring on the shoulder joint
Loose bone fragments
What Activities Should Patients Avoid After Shoulder Replacement?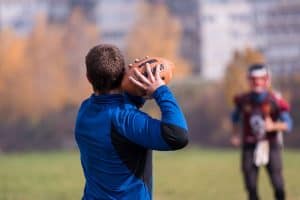 Although patients' activities are restricted for a couple months while recovering from shoulder replacement, they should be able to resume normal activities and use of the involved arm thereafter. For long-lasting results, patients should not overexert or overuse the surgical arm, which can wear down and compromise the life of the artificial joint. Consult with a physician before:
Lifting extremely heavy weights or objects
Participating in high-impact sports that utilize arm and shoulder force, like boxing
Hammering or performing other repetitive arm and shoulder movements
When Is a Patient Too Old (or Too Young) for Shoulder Replacement?
Most patients who undergo shoulder replacement are in their 60s or 70s due to aging's effects on the joints, but there is not a formal age limit for patients who remain a good candidate for the surgery. Many of the patients who have shoulder replacement at a younger age require surgery because of a sports injury.
Because shoulder replacements can eventually wear out, some younger patients decide to postpone surgery. Ultimately, the timing of the surgery is usually dictated by the amount of physical discomfort the patient is experiencing. While a patient who has shoulder replacement in his or her 40s is more likely to require a revision surgery a couple decades later, that is preferable to grappling with shoulder pain each day.
Schedule an Appointment Today
Over the years, Dr. David Burt has helped many patients suffering from shoulder injuries regain their active lifestyles and live pain free. In addition to treating arthritis, Dr. Burt offers rotator cuff surgery, labrum tear treatments and shoulder dislocations surgery. To schedule a consultation at Midwest Sports Medicine Institute, call our Burr Ridge office at (630) 455-2000, our Plainfield office at (815) 267-8825, or our Morris office at (815) 941-1885.
Recent posts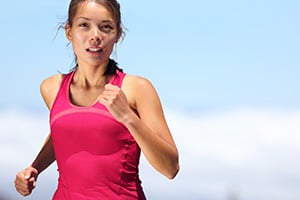 The purpose of this report is to describe arthroscopic suprapectoral biceps tenodesis in the lateral decubitus position. Many technique descriptions for this procedure emphasize the beach-chair position to obtain optimal anterior subdeltoid visualization of the relevant anatomy. This is not...
Read More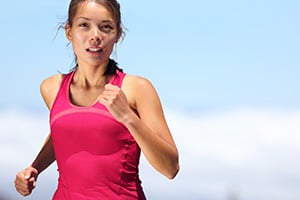 Two years ago, Dr. David Burt opened up his third clinic with Midwest Sports Medicine Institute in Burr Ridge. Along with locations in Plainfield and Morris, Dr. Burt is able to treat countless of athletes of all ages and levels...
Read More