Physician's corner: Dr. David Burt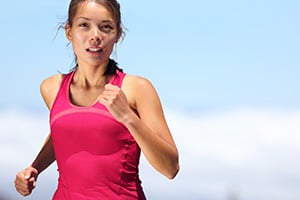 Two years ago, Dr. David Burt opened up his third clinic with Midwest Sports Medicine Institute in Burr Ridge. Along with locations in Plainfield and Morris, Dr. Burt is able to treat countless of athletes of all ages and levels of competition in the Chicago area. As a former D3 Basketball player himself, Dr. Burt understands the physical and emotional pain an injury can have on a young athlete. We were fortunate to pick his brain on the services he provides at Midwest Sports Medicine Institute and how overuse injuries are plaguing young athletes.
Achieve: What led you into Sports Medicine and subsequently starting Midwest Sports Medicine Institute?
Dr. Burt: My own experience as a young high school athlete led me into sports medicine. I was a basketball player and sustained tears to both of my ACL's. Although that was not fun, my experience with all of those who took care of me was positive and led me in that direction.
Achieve: As an Orthopaedic Surgeon, you help treat a number of injuries to the shoulder, knee, elbow, and other body regions, what are your 3 most common surgical procedures you do?
Dr. Burt: The most common procedures that I perform are 1) Knee arthroscopy, including meniscus repair, ACL reconstruction, and cartilage procedures 2) Shoulder arthroscopy, treating a variety of issues including Rotator Cuff tears, Labral tears, Dislocations, Shoulder separations, and arthritis. 3)The remainder includes a variety of procedures such as Biceps tendon repair, Triceps repair, Pectoralis tendon repair, Achilles repair, and Total and Partial knee replacement.
Achieve: We have seen a growing trend of youth athletes sustaining growth plate related injuries such as Osgood Schlatters, Severs Disease and others, what do you infer are the major risk factors for these injuries?
Dr. Burt: The primary issue at hand with these injuries is overuse in sports and not enough rest and downtime. Interestingly, we have seen much less of these in the past few months during Covid-19. In cases with persistent pain that are preventing athletes from full sports performance, regular and guided physical therapy is the best method for recovery, along with appropriate periods of rest from sport.
Achieve: What are some recommendations you would give to athletes to limit the risk of sustaining an overuse injury such as the ones above?
Dr. Burt: First and foremost you have to listen to your body and give it a break when it needs it. Young athletes need to remember that high intensity workouts and high frequency workouts, without proper downtime and breaks, will ultimately lead to overuse injury. You don't need to workout everyday, and you should broaden you scope of activity and become more of a multi-sport athlete. Participation in multiple sports has been shown scientifically to reduce the risk of injury and will better prepare your body for your desired or "main" sport.
Achieve: How important is the role between a treating physician and a physical therapy clinic in effectively returning an athlete back out to their sport after injury?
Dr. Burt: It is extremely important! Open lines of communication between Athlete/Family, Surgeon, Physical Therapist, and Athletic Trainer is essential to successfully return the athlete to their prior level of performance. Keeping everyone on the same page and moving forward will enhance recovery and help to prevent future injury.
Original source: https://www.achieveorthosports.com/articles/2020/7/1/physicians-corner-dr-david-burt/