Joint replacement surgery in Burr Ridge
Also serving Plainfield, Morris and surrounding areas
Is one of the most common and successful operations in modern orthopaedic surgery. It consists of replacing painful, arthritic, worn or diseased parts of the joint with artificial surfaces shaped in such a way as to allow joint movement.
Prognosis is good to excellent in 95% of major joint replacements (hips, knees, and shoulders). Pain relief is especially reliable. Full recovery of range of motion is not always accomplished but you will be able to play golf, walk, dance and engage in light to moderate physical activities. Expect your total joint replacement to last a decade or more.
The future is bright for those who choose to have a total joint replacement to achieve an improved quality of life through greater independence and healthier pain-free activity.
Common Symptoms:
Severe Pain & Muscle Weakening
Pain Medications No Longer Work
Restricted Joint Movement & Joint Stiffness
Meniscus tear
Common Joint Replacements:
Partial Knee Replacement
Dr. Burt performs Partial Knee Replacement with the Oxford (trademark) Knee. This is a less invasive option for appropriately selected patients with arthritis of the knee limited to one compartment.
Candidates for Joint Replacement Surgery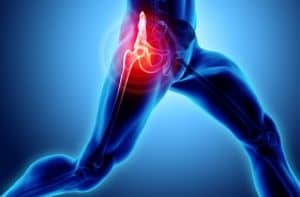 People with chronic joint pain may be good candidates for joint replacement surgery. If a person experiences pain/discomfort that interferes with their ability to do daily tasks and activities, such as walking, exercise, recreational hobbies and work, they may be a surgical candidate. Many patients that are seeking joint replacement surgery with Dr. Burt range between the ages of 60 and 80. Younger individuals may fall into an appropriate population of patients requiring joint replacement because of joint pain secondary to disease or injury. If you experience joint pain when you sit, walk, golf, stand, garden, sleep, go up the stairs or pick up a child, you may want to schedule a consultation with Dr. Burt. Joint replacement surgery often fosters a better quality of life and will help restore the range of motion necessary for daily activities.
Patients are evaluated as appropriate for joint replacement based on a couple of parameters, including impaired function with daily activities, level of pain and loss of mobility. Patients must be in good overall health to undergo this type of surgery. You may be asked to quit smoking or lose excess weight in preparation for this surgical procedure.
Following the recommendations of the physician is crucial to ensure best outcomes following surgery, and Dr. Burt has protocols in place to ensure patients experience the best outcomes with joint replacement. It's also important to consider your ability to take time away from work or other responsibilities while recovering. Sound support in the home is best during the recovery period to ensure appropriate assistance with navigating the home, meals, etc.
If you are experiencing joint pain and limited range of motion that are affecting your work or overall quality of life, discuss your options with Dr. Burt. If deemed a good candidate, it's best to avoid delaying surgery as it creates a greater risk of degenerative issues over time. Pushing out surgery may also lead to less successful outcomes due to continued wear and tear of the joint and deteriorating levels of function.
Preparing for Joint Replacement Surgery
Joint replacement surgery can restore your quality of life. However, patients must prepare for the invasive procedure by planning ahead and preparing themselves and their loved ones for surgery and recovery. Whether you're having knee, hip or shoulder joint replacement surgery, make sure you understand the necessary protocols and stages of recovery. This includes hospital admission vs. surgery center, anesthesia, type of joint implant and a potential short hospital stay or time spent in a rehab facility to ensure appropriate use of physical therapy and occupational therapy for safe return to the home. Scheduling surgery will likely require a slew of pre-operative tests to clear you for surgery. These tests may include a chest X-ray or EKG.
It's imperative to eat well, hydrate and stay away from alcohol for at least 48 hours before your joint replacement surgery. Talk to Dr. Burt about exercise and quitting smoking before the procedure. Smoking inhibits the natural healing process and may complicate recovery. It may be ideal to prepare your home with pre-made meals and an area where you can relax and recover. Remove fall hazards, such as rugs and cords on the ground that increase risk of falling while using crutches or a walker.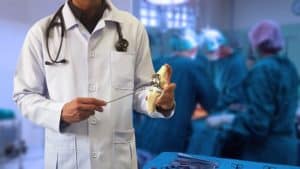 On the day of your joint replacement surgery, make sure to bring your insurance card and a trusted friend or family member to drive you to and from the hospital. You will need help remembering healthcare instructions and settling in at home. Have a list of your current doctors' names and contact information, and be prepared to discuss your allergies, previous surgeries, medical conditions, medications and supplements. Share any dietary restrictions or food allergies you have for your hospital stay and provide existing advanced directives, such as a durable power of attorney or living will.
Our office can help you prepare for joint replacement with pre-op and post-op instructions provided by Dr. Burt and his team.
Benefits of Joint Replacement Surgery
The goal of joint replacement surgery is to relieve joint pain and restore your range of motion and quality of life. Benefits of the procedure include:
Reliable pain relief
Improved mobility
Increased range of motion in the affected joint
Daily tasks, exercise and other activities are easier with little to no pain
A brief hospital stay or rehab stay
High surgical success rate (around 95%)
A fuller, more active lifestyle
Joint replacement surgery significantly reduces joint pain, and most patients enjoy their new joint for many years to come.
If you're interested in joint replacement surgery, contact the Midwest Sports Medicine Institute to schedule a consultation with our board-certified orthopaedic surgeon, Dr. David Burt. Fill out our online contact form or call one of our three locations in Burr Ridge, Plainfield and Morris, Illinois, to make an appointment.
Recent posts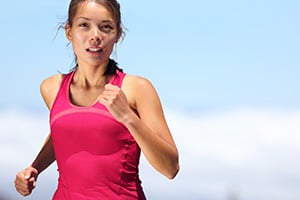 The purpose of this report is to describe arthroscopic suprapectoral biceps tenodesis in the lateral decubitus position. Many technique descriptions for this procedure emphasize the beach-chair position to obtain optimal anterior subdeltoid visualization of the relevant anatomy. This is not...
Read More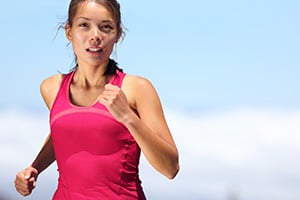 Two years ago, Dr. David Burt opened up his third clinic with Midwest Sports Medicine Institute in Burr Ridge. Along with locations in Plainfield and Morris, Dr. Burt is able to treat countless of athletes of all ages and levels...
Read More