Elbow injuries in Burr Ridge
Also serving Plainfield, Morris and surrounding areas
Dr. David Burt is an orthopaedic surgeon Naperville patients trust to provide compassionate, attentive care and advanced treatments. With years of experience in sports medicine, Dr. Burt has helped many patients who suffer from elbow injuries and elbow pain. He provides comprehensive care for many of the most common elbow conditions. Learn more about the treatment available at Midwest Sports Medicine Institute and contact Dr. Burt at 815-267-8825 to schedule an appointment.
Services We Provide
Dr. Burt works closely with patients to diagnose their condition, and make recommendations for the most effective treatment possible. Some of the elbow procedures that Dr. Burt provides, include:
Distal Biceps Rupture repair
Triceps Rupture repair
Elbow Ligament Reconstruction
Tommy John Surgery
Treatment of Little Leaguer's Elbow
Treatment of Stress Fractures
Treatment of Cartilage Injuries
More about Elbow Injuries
Ulnar Collateral Ligament injury
This injury is common to overhand throwers and can occur as a repetitive trauma or as a result of acute injury from even a single hard throw. Rest, bracing, and physical therapy often are enough to resolve the symptoms and return players to normal.
In some cases the UCL ligament (Tommy John Ligament) can rupture with an acute injury. In a limited number of cases the ligament can be surgically repaired instead of reconstruction surgery.
For those who continue to have pain, "Tommy John" surgery may be required to reconstruct the injured ligament. This involves creating a new UCL ligament on the medial side of the elbow to restore stability and improve pain to be able to return to activity and sport.
UCL reconstruction (Tommy John) Surgery
| | |
| --- | --- |
| Procedure | Outpatient |
| Duration | 1.5 hours–2 hours |
| Anesthesia | General |
| Recovery | 8-12 months before return to full throwing activities |
Little Leaguer's Elbow
This is a repetitive overuse injury to the cartilage of the lateral side of the elbow, seen especially in young throwers who have not reached their full growth. The repetitive stresses of throwing can cause damage to bone and cartilage in the elbow joint which may soften or even break loose into the joint.
Many young throwers can reverse this process with appropriate rest and therapy if no loose fragments have occurred. If loose fragments are already present it will usually require Arthroscopic Surgical treatment. Some cases are more severe an may require cartilage grafting or restoration procedures, especially in athletes that are done growing.
Elbow Injuries FAQs
What Are the Most Common Causes of Elbow Injuries?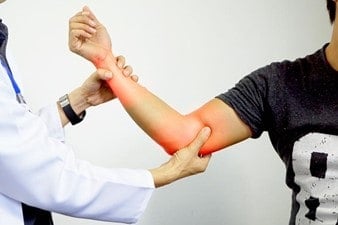 Everyone has bumped their "funny bone" at some point, leading to numbness and pain emanating from the back of their elbow. This mild injury goes away naturally, but severe elbow injury can stem from many circumstances. The most common causes of elbow injuries requiring medical treatment include:
Sports
Recreational activities
Home projects
Work-related projects
Falls
Children and young adults are most at risk for elbow injuries from playing, sports and accidental falls. The injury risk becomes greater depending on which sports your children play. Higher risk sports include, but are not limited to, wrestling, football and soccer.
Age also presents greater risk for elbow injury with potential of bone fractures because the aging process influences loss of muscle mass and strength of the bone (osteoporosis). As people age, vision and balance are compromised, which also increases your risk of injury due to falls.
Sudden, or acute, injuries and damage caused by overusing the elbow are cases we often see at the Midwest Sports Medicine Institute. Acute elbow injury may be attributed to ligament or tendon tears, strains, sprains, bone fractures and/or dislocation. An elbow overuse injury may present with swelling, and is often caused by small tears in the connective tissue (tendinosis) from the repetitive use. Pinched nerves can also be a result of overuse injury.
What are the Symptoms of an Elbow Injury?
There's a wide range of elbow injuries. Minor trauma may heal well without intervention and involve a generalized dull pain in the elbow. Severe elbow injury often presents with significant pain, daily limitations and will require intervention, and sometimes requires surgery. Symptoms of elbow injury include:
Less mobility or reduced ability to extend the elbow completely
Pain while moving the injured elbow, which may become sharp with lifting anything on the involved side
Swelling
Tenderness
A popping sound or feeling when you move the elbow
You may not know if your elbow injury is minor or severe. If something feels wrong, don't wait to seek medical attention, as the symptoms and damage to the tissues and joint may potentially worsen.
How Can a Doctor Help Me After an Elbow Injury?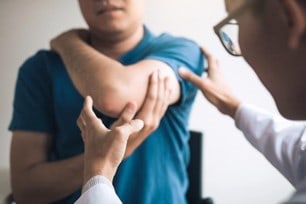 Dr. Burt is a renowned sports medicine and orthopaedic surgeon. He will run diagnostics and order the appropriate imaging tests to determine the extent of injury to your elbow. Pain medication, non-surgical treatment such as physical therapy and immobilizing the elbow may improve symptoms and facilitate recovery. Other times, surgery is required to restore full range of motion and use of the elbow.
Depending on your elbow injury and lifestyle, Dr. Burt may recommend arthroscopic surgery. In some cases, surgery may be required to reconstruct ligaments or address damage to the bone and cartilage in the elbow joint.
How Do I Know if I Need Treatment or Surgery for My Elbow Injury?
Our board-certified orthopaedic surgeon will discuss your treatment options. The best way to address your elbow injury will depend on the diagnosis and severity of the trauma to the joint and surrounding tissues. Your age, overall health, medical history, activity level, and specifics of your sport all play a role in your treatment plan. Schedule an appointment with Dr. Burt if you are dealing with an elbow injury and are experiencing ongoing pain, difficulty moving the elbow normally, significant swelling or bruising.
Schedule a Consultation Today
Dr. Burt is a leading provider of orthopaedic surgery, including treatment of various elbow conditions. If you have suffered an elbow injury or have elbow pain, learn more about your treatment options by contacting our office 815-267-8825. Dr. Burt frequently works with Naperville workers' compensation patients, as well as those suffering from athletic injury.
Recent posts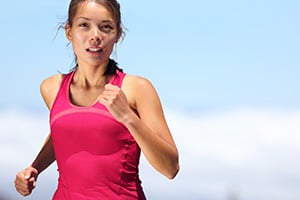 The purpose of this report is to describe arthroscopic suprapectoral biceps tenodesis in the lateral decubitus position. Many technique descriptions for this procedure emphasize the beach-chair position to obtain optimal anterior subdeltoid visualization of the relevant anatomy. This is not...
Read More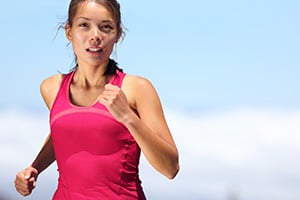 Two years ago, Dr. David Burt opened up his third clinic with Midwest Sports Medicine Institute in Burr Ridge. Along with locations in Plainfield and Morris, Dr. Burt is able to treat countless of athletes of all ages and levels...
Read More